Kaufman Engineering Systems KPal SW (Stack & Wrap) Series of Robotic Palletizers
Flexible Palletizing Solutions designed to handle unstable products.
The new Kaufman KPal SW series palletizers are a perfect fit for those applications where load stability is a concern. The Kaufman KPal SW series encompasses the best of both worlds: high speed palletizing with an integral stretch wrap process to stabilize unit loads as they are built. This dynamic system allows the operator to react to case and bundle characteristics by choosing how many layers are built by the robot before the stretch wrapper incrementally wraps. Incrementally wrapping the load as it is built provides the ultimate in load integrity. No more worries about load transfer from the palletizer to the stretch wrapper!
The KPal Stack and Wrap Group is available in many models, including:
KPal SWV - Stack and Wrap Vacuum Palletizing System
KPal SWS - Stack and Wrap Spatula Palletizing System
KPal SWC - Stack and Wrap Clamp Palletizing System
KPal SWV - Stack and Wrap Vacuum Palletizing System

Robotic Stack and Wrap Palletizing System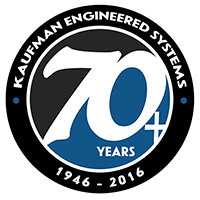 KES will configure your KPal SW series palletizer with the most efficient end of arm tooling for your specific product. The KPal SWV series features our proprietary vacuum style end of arm tooling for conventional sealed corrugate cases. The KPal SWS series features our spatula style end of arm tooling for bundles or trays. All end of arm tool styles are available with the ability to pick tier sheets and/or pallets. With a long list of standard and optional features, the KPal Stack & Wrap Series is sure to increase the rate of return on your equipment investment.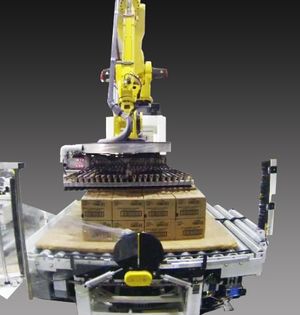 Standard Features:
Allen Bradley Components Including: CompactLogix, ControlLogix, and GuardLogix PLC's, Powerflex 525 Drives and Panelview Interface Screens
FANUC Robots
SmartScan Light Curtains
Kaufman Engineered Systems manufactured end-of-arm tooling
Approval drawing package
Complete set up and testing at KES facility with customer Factory Acceptance Test (FAT)
Efector proximity switches
Grace external Ethernet programming port and 120VAC GFIC outlet
KPal Options:
KRL1 robotic labeler

Sheet, pallet, and dunnage handling
Integrated vision to detect sheet alignment
Infeed conveyance systems and spiral conveyors to delivery product to palletizer
Complete line of unit load conveying equipment including roller conveyors, chain conveyors, mattop conveyors, transfer cars, turntable conveyors, and chain transfers
Complete line of Kaufman stretch wrappers
Safety performance level calculations, creation of safety validation documents, and field safety validations
Fortress Trapped key gate switches and Ross automatic air dump valves
System Pre-wire package with NEMA-12 wireway
UL 508A listed control panel
FANUC ZDT - Zero Downtime Monitoring
Panel heating / air conditioning
Zone disconnects
Robotic labeling of unit loads
Barcode scanning
Training
As an Authorized Systems Integrator for Fanuc Robotics, Kaufman Engineered Systems applies Fanuc robot technology to provide customers complete end of line system solutions.
The solution may be as simple as a dedicated palletizing cell, or as complex as a multi-line handling and palletizing system. No matter how big or small, Kaufman Engineered Systems will address each project and customer with the same integrity and professional response.
Service And Support:
With each KPal system comes Kaufman Engineered Systems service and support. Backed by 70 years serving customers, Kaufman is a partner you can rely on to respond quickly and efficiently when having service needs. With your KPal palletizer you will have service options to choose from if you wish to setup quarterly, semi-annual, or annual maintenance support with Kaufman Qualified Technicians.
Kaufman Engineered Systems KPal Series Palletizers. Let us help you become a new member of our family. We look forward to working with you.