Kaufman Engineered Systems KPic Series
Automatic High Speed Pick and Place FANUC Robot Systems
The new Kaufman KPic Series is a perfect fit for your high speed picking and automation needs! This series features a high speed pick and place which provides a unique combination of speed, flexibility, and control. The KPic system has the ability to pick and place mostly any product from food, plastic, paper to steel and so on. When speed, precision, and reliability mean the most, Kaufman Engineered System's can help you solve your pick and place automation needs.
A variety of FANUC robots can be considered for picking applications. Typically low weight and high speed are the criteria for picking applications. FANUC's line of Delta Robots (M-1iA Series, M-2iA Series, M-3iA Series, DR-3iB Series) and FANUC's new line of SCARA SR-iA Series of robots are popular due to their high speed and precise performance. Kaufman Engineered Systems will qualify your requirements and apply the model robot, safety, and controls to achieve the optimum solution.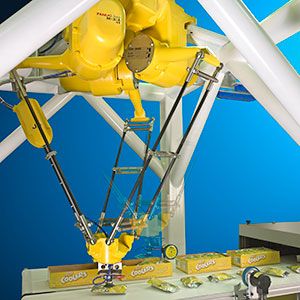 High speed sorting, labeling, packing and material handling applications
Maximize accuracy with vision systems or line tracking
Light weight and compact robot models built for repeatability and speed
Multiple robot versions for picking applications:

M-1iA, M-3iA, M430iA, LR Mate 200iC, M-10iA, M-420iA, M-710iC, R-2000iB, M-410iB140H, M410iB and much more…
Let the line automation experts customize product picking equipment in our testing lab to suit your system requirements.
Kaufman Engineered Systems manufactured end-of-arm tooling
Conveyor controls and guidance
Safety fencing and gate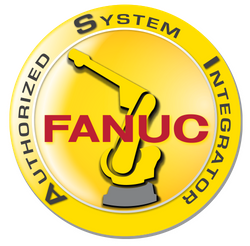 As a level four Authorized Systems Integrator for FANUC Robotics, FANUC's highest level of attainment, Kaufman Engineered Systems applies FANUC robot technology to provide customers complete end of line system solutions.
The solution may be as simple as a dedicated palletizing cell, or as complex as a multi-line handling and palletizing system. No matter how big or small, Kaufman Engineered Systems will address each project and customer with the same integrity and professional response.
Service And Support:
With each KPal system comes Kaufman Engineered Systems service and support. Backed by over 70 years serving customers, Kaufman is a partner you can rely on to respond quickly and efficiently when having service needs. With your KPal palletizer you will have service options to choose from if you wish to setup quarterly, semi-annual, or annual maintenance support with Kaufman Qualified Technicians.
Kaufman Engineered Systems KPic Series Palletizers. Let us help you become a new member of our family. We look forward to working with you.