Kaufman KForce Automated Stretch Wrapping System
KForce R20 Rotary Arm Stretch Wrapper
The KForce Stretch Wrapping Series offers a complete line of the most durable stretch wrapping equipment available. When uptime efficiency and equipment longevity are what you desire, Kaufman stretch wrappers are the clear choice.
Superior stretch wrapping through automation, custom designed and built for you.
Kaufman Engineered Systems' automated stretch wrappers are unrivaled and designed to match your business's unique automated material handling needs. Our machines get the job done efficiently and effectively, giving your products the highest level of protection possible. Through custom automation, Kaufman wrappers reduce product loss during storage and transit, lower machine costs, and improve productivity. Your fully automated stretch wrapper will be among the most advanced machinery on the market due to the standard high-quality components, with several additional custom options to choose from.
Rotek bearing provides robust support for the wrapper arm.
Optional low-profile hold-down for load securement during the wrapping process.
Optional CAM (Corner Anticipation Mode) for wrapping light and unstable loads.
Kaufman-powered pre-stretch head using K-Force film feed technology to optimize film delivery to load.
Stretch head mast using "no lube" Vee Wheel guides and spring-tensioned chain drive for simple yet virtually maintenance-free performance.
Grip arm provides milled finger slots for convenient loading of film.
10' wrapper conveyor provides a compact footprint. Conveyor design will vary based on load support requirements.
Robust 8"x8" metal tube frame construction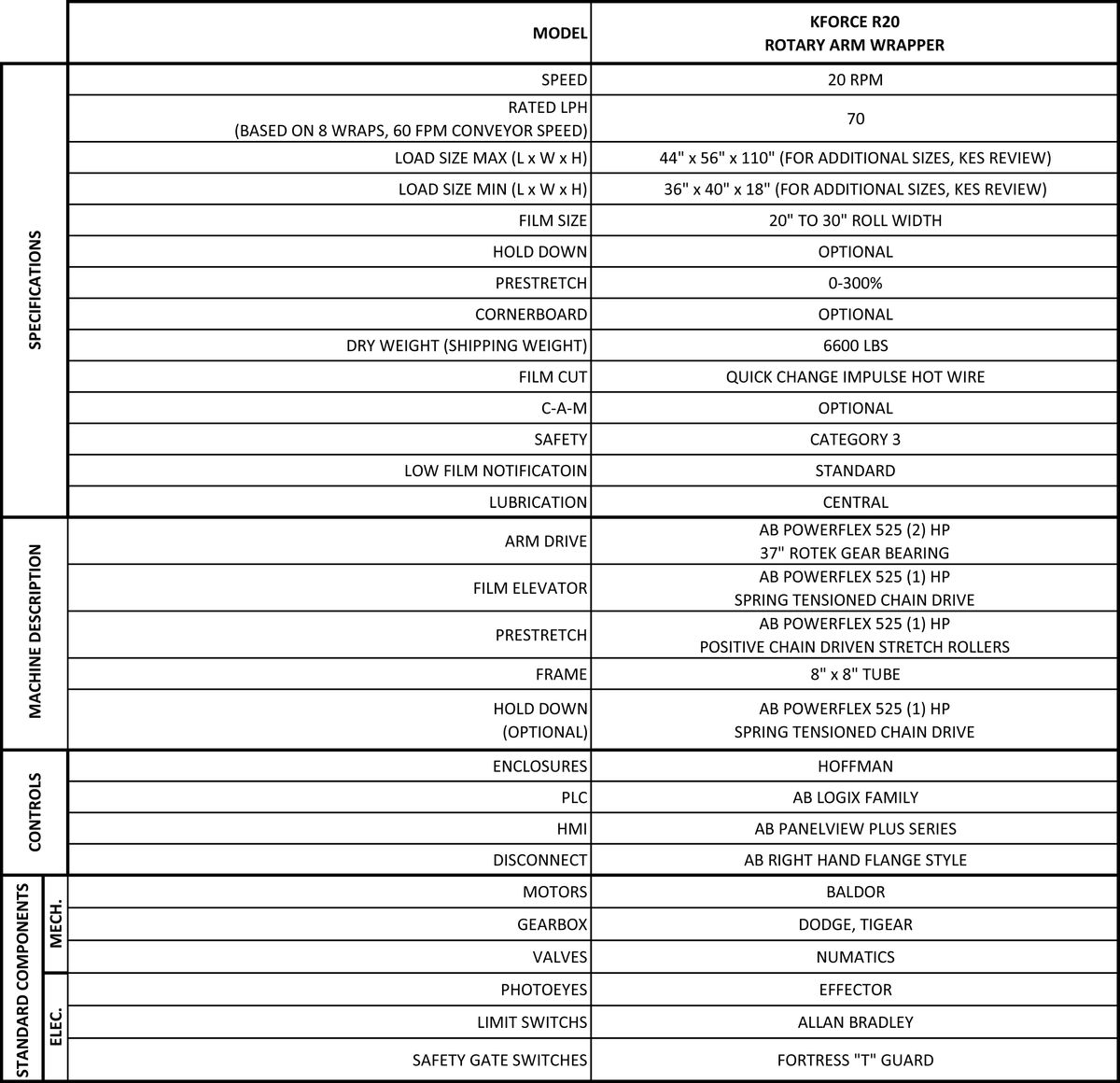 Strapping and Stretch Wrapping for Secure Loads

Upon exit of the Palletizing System, the finished load needs securement prior to pick-up by warehouse operators. An automatic strapper or also referred to as an automatic bander, applies a 2 x 2, 4 x 4 or other selected band pattern based on customer needs. KES commonly integrates strapping units along with local controls for strap pattern selection, stop, start, manual, auto and diagnostics. In addition, KES manufactures a lift and turn or a strapper shuttle and sequences the load through the strapper.
The finished load is conveyed to an automatic stretch wrapper after strapping the palletized load. Here stretch wrap is applied to the unit to act as a dust cover and final containment to keep containers in place. KES manufactures a variety of stretch wrapper models to accommodate the loads per hour and film size requirements. Two standard models KES installs commonly are The Sxpa-20-100" automatic rotary arm stretch wrapper and The Expa-15-100" automatic rotary table stretch wrapper. The SXPA rotary arm model applies film to the stationary load while the film head is rotated around the unit. This is beneficial and suggested for more unstable palletized loads. The EXPA rotary table stretch wrapper applies wrap while the turntable rotates the load, and the stretch head is located on a fixed tower. The benefits of a rotary table stretch wrapper are reduced footprint for when space is essential. Both solutions offer 20" or 30" film size options, selectable wrap patterns, automatic load height detection, and system diagnostics.
After final packaging through the stretch wrapper, Kaufman Engineered Systems will manufacture and supply finished load accumulation based on customer requirements. KES will work with the customer to design, manufacture, program, install, and start up the finished end-of-line discharge conveyor system to provide loads to the warehouse operators.
Additional KForce Stretch Wrap Models
The images below represent how the other types of KForce systems might be laid out. The actual configuration of each design is customized according to the customer's unique needs. Click on any image for more detailed information.
Upgrading Existing Equipment?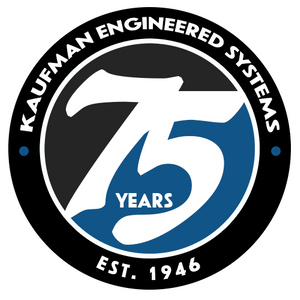 Kaufman is Your Single Source for End-of-Line Automation. We design, manufacture, and integrate. With fewer headaches. Less paperwork. And no compatibility issues. Just the best, most efficient system for your business.
Kaufman Engineered Systems is a premier integrator for FANUC robotics offering robotic palletizing, depalletizing, case packing, high-speed picking, and labeling. In addition, Kaufman manufactures their own line of stretch wrapping, pallet conveying, pallet stacking, pallet dispensing, and other material handling offerings. Couple all this with in-house controls, and Kaufman has the complete solution. Let us help you create your next end-of-line solution.