Kaufman KForce Automated Stretch Wrapping System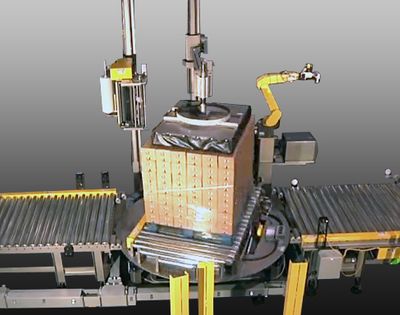 KForce T20 Turntable Stretch Wrapper with Speed of 20 RPM
A Great Option for Securing More Stable Loads
Kaufman's KForce T20 turntable stretch wrapping systems are designed to be used with stable loads, making this an ideal solution for low-volume and medium-volume packaging needs. Our turntable systems also provide full control over the wrapping cycle, allowing our customers to customize their packaging process to meet their specific requirements.
The turntable stretch wrapping systems also require minimal maintenance and can be easily operated by one person. In addition, they offer the ability to integrate with a palletizer to wrap while stacking a load. When applying stretch wrap to stable loads that do not require high speeds, the KForce T20 system is an ideal choice.
Featured options:
Optional low-profile hold-down for load securement during the wrapping process.
Grip arm provides milled finger slots for convenient loading of film.
Allen Bradley AC Powerflex drives
0-300% film pre-stretch capacity
20" film capacity
Allen Bradley electrical and control components
10' wrapper conveyor provides a compact footprint.
Conveyor design will vary based on load support requirements.
Robust 6"x6" metal tube frame construction.
Additional machine options:
Film roping
Automatic heat tacker for final film tail (heat seals film)
Load stabilizing hold down
Reversing for system conveyors
Wash-down package
UL 508A listed control panel
CUL control panel
Cold room and food-grade packages available
Top protection (poly or corrugate)
Corner board protection
Equipment installation services

Review detailed information about the KForce T20 turntable stretch wrapping systems.
When uptime efficiency and equipment longevity are what you desire, Kaufman stretch wrappers are the right choice for your business.
Today is the day to maximize the efficiency of your material handling needs. Contact our award-winning account managers for a free consultation. Call 419-878-9727 or email us at info@KES-USA.com.
Strapping and Stretch Wrapping for Secure Loads

Upon exit of the Palletizing System, the finished load needs securement prior to pick-up by warehouse operators. An automatic strapper or also referred to as an automatic bander, applies a 2 x 2, 4 x 4 or other selected band pattern based on customer needs. KES commonly integrates strapping units along with local controls for strap pattern selection, stop, start, manual, auto and diagnostics. In addition, KES manufactures a lift and turn or a strapper shuttle and sequences the load through the strapper.
Upon completion of strapping the palletized load, the finished load is conveyed to an automatic stretch wrapper. Here stretch wrap is applied to the unit to act as a dust cover and final containment to keep containers in place. KES manufactures a variety of stretch wrapper models to accommodate the loads per hour and film size requirements. The KForce T20 turntable system is also known as the Expa-15-100" automatic rotary table stretch wrapper. The EXPA rotary table stretch wrapper applies wrap while the turntable rotates the load, and the stretch head is on a fixed tower. The benefits of a rotary table stretch wrapper are reduced footprint for when space is important. This solution offers 20" or 30" film size options, selectable wrap patterns, automatic load height detection, and system diagnostics.
After final packaging through the stretch wrapper, Kaufman Engineered Systems will manufacture and supply finished load accumulation based on customer requirements. KES will work with the customer to design, manufacture, program, install, and startup the finished end-of-line discharge conveyor system to provide loads to the warehouse operators.
Additional KForce Stretch Wrap Models
The images below represent how each type of KForce system might be laid out. The actual configuration of each design is customized based on the customer's unique needs. Click any image for additional details about the model shown.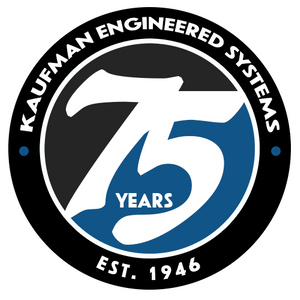 Let the line automation experts customize equipment in our research and development lab to suit your system requirements. Dedicated testing for robot speed and utilization, product pick ability, and turning. We have all the tools needed to customize a system to fit your unique product needs.
Kaufman Engineered Systems is a premier integrator for FANUC robotics offering robotic palletizing, depalletizing, case packing, high-speed picking, and labeling. In addition, Kaufman manufactures their own line of stretch wrapping, pallet conveying, pallet stacking, pallet dispensing, and other material handling offerings. Couple all this with in-house controls, and Kaufman has the complete solution. Let us help you create your next end-of-line solution.