Automated Corner Board Options for Stretch Wrapping Systems
Available for Standard KForce R35 and R20 Rotary Arm Wrappers
Not only does Kaufman Engineered Systems offer a complete line of the most durable stretch wrapping equipment available, but we also provide options for incorporating automated corner board applications.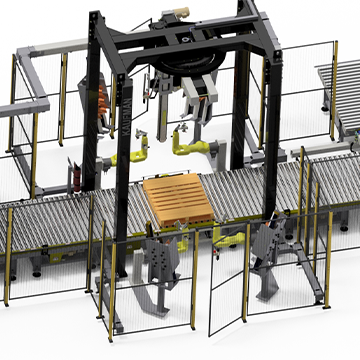 Corner board application options for increased product stabilization.
Robotic corner board applications offer a range of benefits for businesses. Robotic palletizers can save time and money by loading pallets correctly every time, regardless of the production line. You can have an automated system for palletizing that allows operators to manually apply corner boards to pallet loads in a safe and effective manner, but if speed is important in maintaining the desired levels of productivity and accuracy, robotic corner board applicators are ideal. Our pick-and-place robots are customizable to meet specific production requirements, and they can be programmed for multiple applications.
Two Corner Board Robot Option:
Kaufman integrates two Fanuc corner board placing robots to position and hold corner boards, two at a time, as the stretch wrapper secures them. A turntable conveyor then rotates the pallet 180 degrees into a position that allows the placement of the remaining two corner boards. Finally, the stretch wrapper completes the wrap function, and the load is conveyed to the next station.
Four Corner Board Robot Option:
If increased throughput speed is required, the system can be updated to forgo the turntable and integrate four Fanuc corner board placing robots so that all four sides can have corner boards applied at once during the wrapping process.
Improve Stability and Protection of Stretch Wrapped Products
Rotek bearing provides robust support for the wrapper arm.
Optional low-profile hold-down for load securement during the wrapping process.
Optional CAM (Corner Anticipation Mode) for wrapping light and unstable loads.
Kaufman-powered pre-stretch head using K-Force film feed technology to optimize film delivery to load.
Stretch head mast using "no lube" Vee Wheel guides and spring-tensioned chain drive for simple yet virtually maintenance-free performance.
Grip arm provides milled finger slots for convenient loading of film.
10' wrapper conveyor provides a compact footprint. Conveyor design will vary based on load support requirements.
Robust 8"x8" metal tube frame construction.

Review detailed information about the standard, rotary arm, 35 RPM automated stretch wrapper systems.

Review detailed information about the standard, rotary arm, 20 RPM automated stretch wrapper systems.
Additional Options and Modes for Increased Stabilization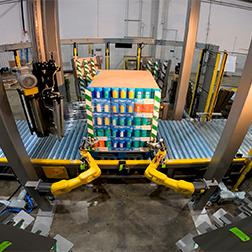 Corner Anticipation Mode (CAM): enables the system to anticipate the corners of the load so that the payout of the film is increased on the corners only, ensuring the right tension is applied for a tight, secure wrap every time.
Hold Downs: straps or clips added to palletized loads to offer additional stability to unstable loads during the stretch wrapping process.
Lift Loaders: used to raise the load up so the wrapper can reach the entire pallet at the bottom of the load.
Plows: used to automatically fold additional protection pieces over the top and/or underneath the palletized load.
Roping: provides the option for the system to roll the film up into thicker, stronger "ropes" that can be wrapped around loads for additional strength and stability.
Additional KForce Stretch Wrap Models
The images below represent how each type of KForce system might be laid out. The actual configuration of each design is customized based on the customer's unique needs. Click any image for additional details about the model shown.
Upgrading Existing Equipment?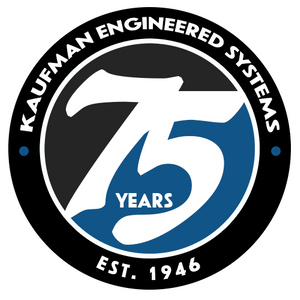 Kaufman is Your Single Source for End-of-Line Automation. We design, manufacture, and integrate. With fewer headaches. Less paperwork. And no compatibility issues. Just the best, most efficient system for your business.
Kaufman Engineered Systems is a premier integrator for FANUC robotics offering robotic palletizing, depalletizing, case packing, high-speed picking, and labeling. In addition, Kaufman manufactures their own line of stretch wrapping, pallet conveying, pallet stacking, pallet dispensing, and other material handling offerings. Couple all this with in-house controls, and Kaufman has the complete solution. Let us help you create your next end-of-line solution.