Waterville Area Chamber of Commerce Awards Kaufman Engineered Systems "Business of the Year"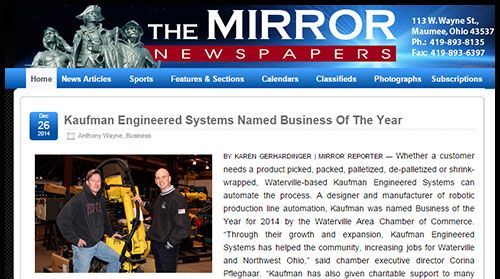 Whether a customer needs a product picked, packed, palletized, de-palletized or shrink-wrapped, Waterville-based Kaufman Engineered Systems can automate the process. A designer and manufacturer of robotic production line automation, Kaufman was named Business of the Year for 2014 by the Waterville Area Chamber of Commerce. "Through their growth and expansion, Kaufman Engineered Systems has helped the community, increasing jobs for Waterville and Northwest Ohio," said chamber executive director Corina Pfleghaar. "Kaufman has also given charitable support to many area organizations." When the company was founded in 1946, industrial process heating equipment was its core business. In the 1960s, the focus shifted to shrink-wrap systems. By 1995, when Kaufman built its 60,000-square-foot facility on Waterville-Monclova Road, the company began developing and integrating robotic palletizers and case conveyer systems. A few years later, Kaufman entered into an agreement with Fanuc Robotics to distribute their products. Today, those yellow robotic arms – outfitted with suction cups, pinchers and a variety of other tools – are central to their custom-made production lines.
Walking through the manufacturing floor last week, vice president Nick Kaufman pointed out projects in the works, such as automating the placement of boxes of yogurt onto pallets, a job previously done by manual labor. Similarly, Kaufman recently created a better, automated solution for another client that used to pay two people to place pouches of Craisins into boxes at the end of the line. "For companies to remain and make themselves efficient and competitive, they have to invest in automation," Nick said. "We're evolving every day to a more technical world." So while automating end-of-line production may eliminate some manufacturing jobs, it also opens up a whole spectrum of careers – including jobs for robot programmers and technicians, he said.
Nick encourages youth to pursue technical degrees, including studying in the robotics labs at Michigan Tech and Northwest State Community College. Graduates can then get hands-on training through an internship or hiring into companies like Kaufman, learning how to use the Fanuc software. Inside the research and development lab, Nick pointed to beverage cans neatly shrink-wrapped on pallets. A customer asked Kaufman how to streamline its process of putting several different flavors into combo packs without having to waste cardboard cases and transportation to have them repackaged. Another company is looking for a way to automate its packaging so that a spray wand is attached to a bottle. "When Kaufman is presented with a need, and we're not 100-percent sure how to get it done, we build a demonstration line and test it, so that we can prove the concept that we believe will work," Nick said. "Last week, we ran the line and a company rep came in and took a video. When you can show it in the real world, it has quite an impact." Kaufman invests significant time and resources into research and development, because it brings in new opportunities and wins orders, Nick said. That investment has paid off.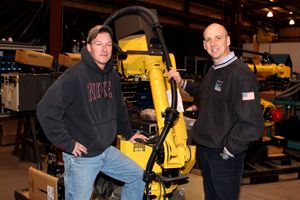 To date, Kaufman has completed 400 robotic installations. Since 2007, the business has grown over 70 percent. To meet that growth, additional employees were hired, bringing staffing to over 100. Kaufman currently is full at its 30,000-square-foot Fremont facility and at the main headquarters on Waterville-Monclova Road. Two years ago, Kaufman purchased a 10,000-square-foot building across the street, for additional warehousing and offices. While the move across the street freed up some production floor space, Kaufman is still looking to expand. As Nick toured the packed plant floor last week, he maneuvered between new lines that were being assembled. In one corner was a plasma cutter recently added to cut steel plates – a job that was previously outsourced. Nearby, Jim Gordon was assembling a robot, while other employees were welding, machining, assembling and painting parts. "We still send some out, but primary manufacturing happens here," Nick said, noting that this saves on time and costs to the customer.