Kaufman Engineered Systems is a leading company in designing, manufacturing, and implementing advanced automation systems for end-of-line operations. Headquartered in Ohio, Kaufman has served the manufacturing industry throughout the United States for over 75 years, providing cutting-edge solutions to help companies improve their productivity, efficiency, and profitability. Our focus on customization, quality, and safety has enabled us to develop a comprehensive range of automated systems, including robotic palletizers, depalletizers, case packers, stretch wrappers, and conveyor systems, among others. Kaufman's team of experts works closely with clients to understand their specific requirements and design customizable solutions tailored to their production lines' unique needs. Through this approach, Kaufman has become a trusted partner for businesses across a range of industries, including food and beverage, automotive, pharmaceuticals, and more.

KPac and KPal C Robotic Case Packing and Clamp Palletizing System with KForce Stretch Wrapper
Kaufman recently designed and built a system for end-of-line case packing, palletizing, and wrapping plastic containers. The customer had challenging requirements for 50-75% surge rate capacity and the system we built was able to deliver. Watch System Video >

Kaufman Engineered Systems is now offering custom video training for your new system. This tool is excellent for new employee onboarding and as a current employee refresher course. This video training provides your team with as much detail and knowledge as if a Kaufman technician was by your side.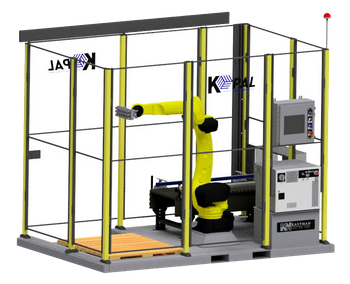 Two New Standard Palletizer Offerings
Kaufman Engineered Systems has designed two new standard offerings in their KPal Compact Group of palletizing systems in response to customer feedback and new interest in initiating automation since the start of the COVID pandemic.
Click below for more information on each new robotic system.
Need to Automate
Let the line automation experts customize equipment in our research and development lab to suit your system requirements. Dedicated testing for robot speed and utilization, product pick ability, and turning. We have all the tools to completely customize a system to fit your unique product and business needs.
Upgrade Existing Equipment
Your Single Source for End-of-Line Automation. We design, manufacture, and integrate. With fewer headaches. Less paperwork. And no compatibility issues. Just the best, most efficient system for your company.
Clients We've Worked With











Careers at Kaufman Engineered Systems
Click position to learn more about the job.
-Full-time Positions
-1st Shift Only
-401k Employer Match
-Annual Bonuses
-Profit Sharing