Kaufman Engineering Systems KPal Compact Series of Robotic Palletizers
Designed to palletize cases, bundles and trays.
KES will configure your KPal Series palletizer with the most cost effective and efficient end of arm tooling for your specific product and industry needs. The proprietary spatula, vacuum, or clamp end of arm tooling can be outfitted to pick tier sheets and pallets along with your product to increase the rate of return on your equipment investment.
The KPal Compact Models:
The KPal Series of Compact Robotic Palletizers has many models which you can tailor to your industry segment whether it be Food, Beverage, Building Products, Paper, Plastic Container, Glass Container, Pharmaceutical, Personal Care to name a few. KPal Compact Series Standard Features include Allen Bradley PLC and control components and Category (3) Safety Architecture, Complete system set up and testing at KES. The KPal Compact Series Palletizer has the options to meet your plant and production needs.
Calculate the benefits when you automate with Kaufman Engineered Systems Robotic Palletizing Solutions:
Increased line efficiency
Increased production
Improved quality of finished units
Greater line flexibility
Reduction in labor injuries
Reduction in staffing requirements
PALLETIZED OPTIONS:
Standard Features:
Kaufman Engineered Systems manufactured end-of-arm tooling
Complete set up and testing at KES facility
Category (3) safety architecture
Additional Options:
Slip sheet capability
Tier sheet capability
Pallet pick or automatic feed
Transfer-unit mounted robots for moving between feed and build lanes and accommodating multiple stack locations
Integrated vision
Infeed product conveyor
UL 508A listed control panel
CUL control panel
FANUC ZDT - Zero Downtime Monitoring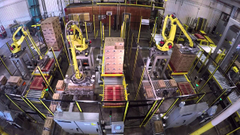 Robotic Case Palletizer, Transfer Car, Pallet Dispenser and Overhead Stretch Wrap System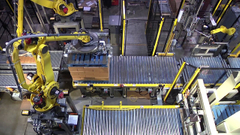 Dual Case Palletizer and Rotary Table Rope Stretch Wrapping System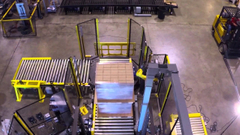 Full Tier Case and Tray Palletizing System with Automatic Wrapper and Robotic Load Labeler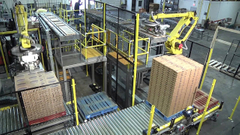 FANUC Robotic Case Palletizing System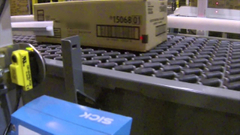 Palletizing Robot Case Conveying Stack and Wrap System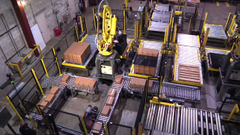 Case and Tote Palletizer Equipment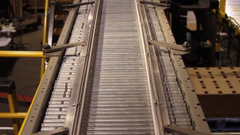 Robotic Case Palletizing System with Adjustable Side Guides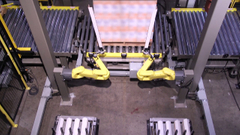 Dual Case Palletizing System with Corner Board Stretch Wrapper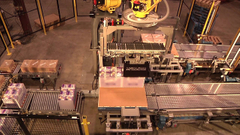 Tray and Case Robotic Palletizing System
As an Authorized Systems Integrator for Fanuc Robotics, Kaufman Engineered Systems applies Fanuc robot technology to provide customers complete end of line system solutions.
The solution may be as simple as a dedicated palletizing cell, or as complex as a multi-line handling and palletizing system. No matter how big or small, Kaufman Engineered Systems will address each project and customer with the same integrity and professional response.
Service And Support:
With each KPal system comes Kaufman Engineered Systems service and support. Backed by 70 years serving customers, Kaufman is a partner you can rely on to respond quickly and efficiently when having service needs. With your KPal palletizer you will have service options to choose from if you wish to setup quarterly, semi-annual, or annual maintenance support with Kaufman Qualified Technicians.
Kaufman Engineered Systems KPal Series Palletizers. Let us help you become a new member of our family. We look forward to working with you.