Kaufman Engineering Systems KPal Compact Group of Robotic Palletizers
Small Footprint / Cost Effective Palletizing Solutions designed to palletize cases, bundles and trays.
The new Kaufman KPal compact palletizers are a perfect fit for those applications with limited floor space where an individual line requires palletizing capability. KES will configure your KPal palletizer with the most efficient end-of-arm tooling for your specific product. The KPal CV group features our proprietary vacuum-style end-of-arm tooling for conventional sealed corrugate cases. The KPal CS group features our spatula-style end-of-arm tooling for open-top cases or trays. The KPal CC group features our clamp-style end-of-arm tooling for those product arrangements which are best picked from opposing side forces. The KPal CB group features our bag end-of-arm tooling to pick and palletize sealed bags. All end-of-arm tool styles are available with the ability to pick tier sheets and/or pallets. With a long list of standard and optional features, the KPal Compact group is sure to increase the rate of return on your equipment investment.

The KPal Compact Group is available in many models, including:
KPal CV - Compact Vacuum Palletizing System
KPal CS - Compact Spatula Palletizing System
KPal CC - Compact Clamp Palletizing System
KPal CB - Compact Bag Palletizing System
Example Configurations of KPal Compact Palletizing Systems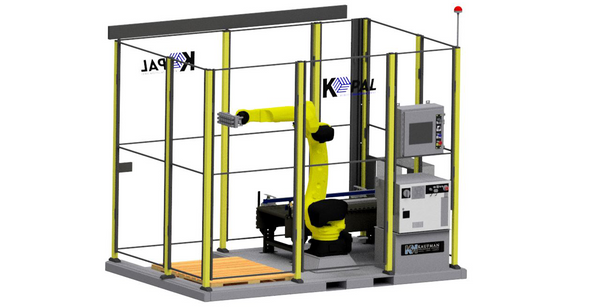 Compact Configuration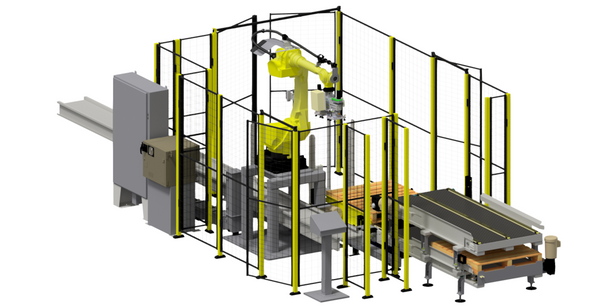 Compact Configuration with Conveyors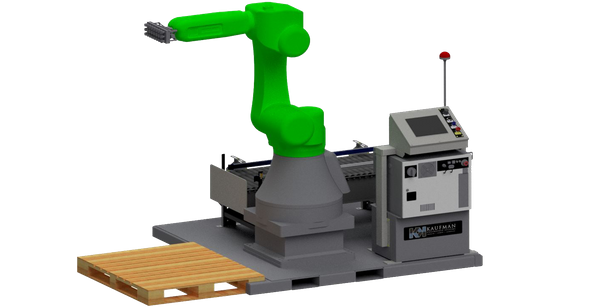 Configuration of a Collaborative, Compact System
The images above are representations of how our compact systems might be laid out. The actual configuration of each system is customized based on the unique palletizing automation needs of the customer.
Videos of KPal Compact Palletizing Systems in Action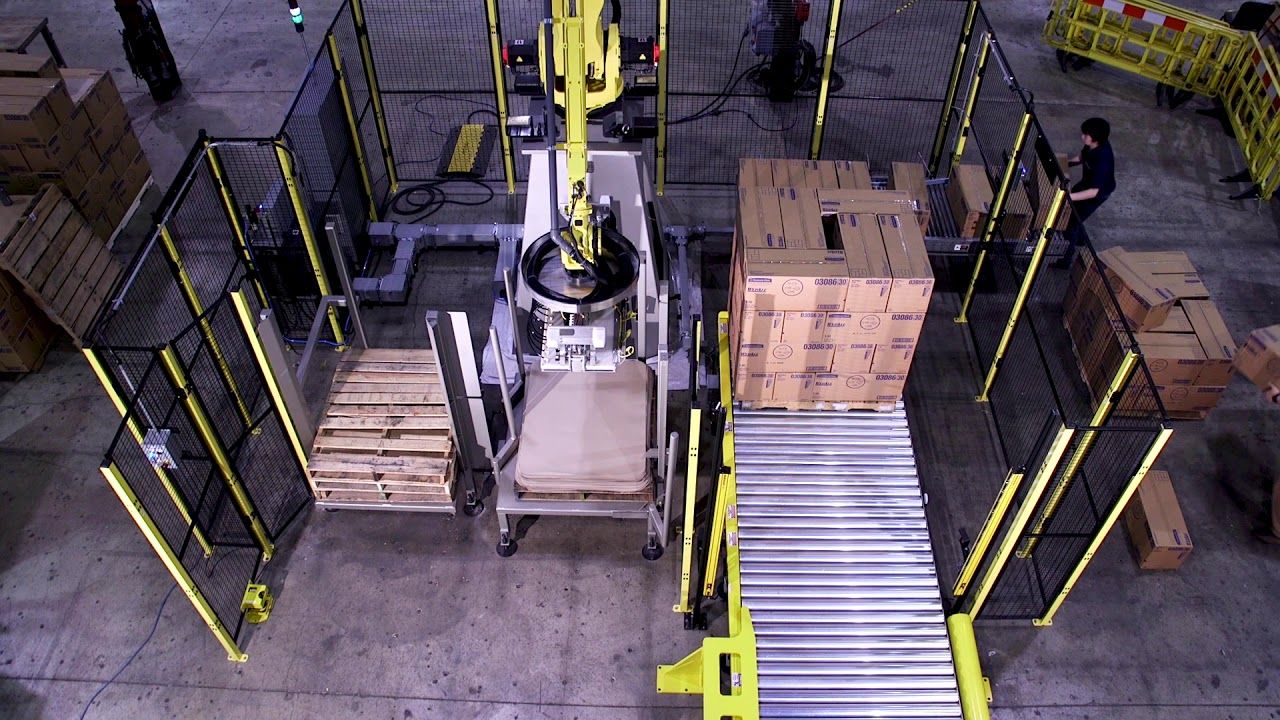 KPal CV Small Footprint Case Palletizing System With Fenceless Loading Zone
Kaufman KPal CV compact vacuum end of arm tooling system.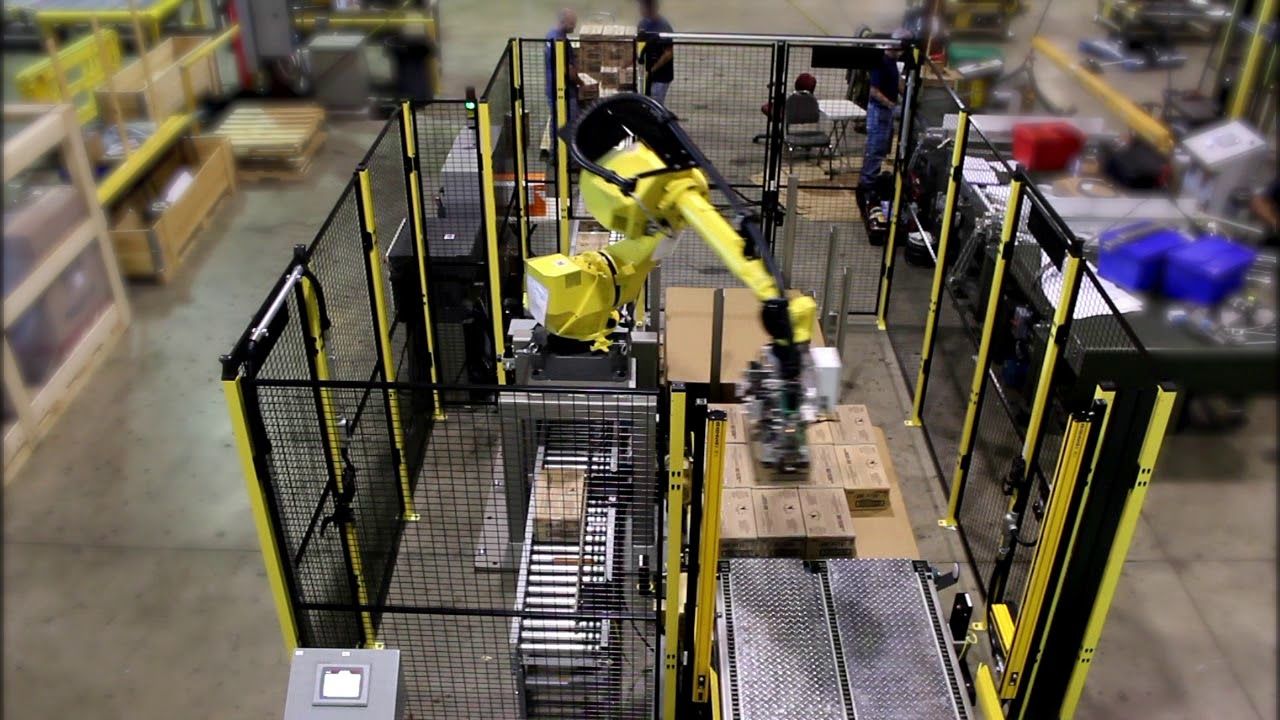 KPal CV Small Footprint Case Conveying System
Kaufman KPal Compact Vacuum end of arm tooling.
KPal Compact Palletizer Group Standard Features
Allen Bradley Components Including CompactLogix, ControlLogix, GuardLogix PLCs, Powerflex 525 Drives, and Panelview Interface Screens.
FANUC Robots.
Kaufman Engineered Systems (KES) manufactured end-of-arm tooling.
Fortress "T" guard trapped key gate switches.
Smartscan light curtains.
Axelent safety fencing and access gates.
KES risk assessment.
CAT-3 electrical safety circuit with dual channel self-checking relay.
24/7 Support.
KPal Compact Palletizer Group Options
Choose among a huge selection of KPal Options: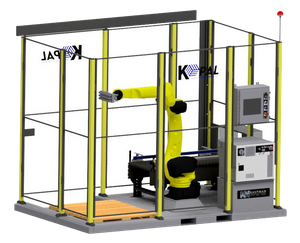 Compact Robotic Palletizers Provide Answers to Workplace Labor Concerns
Kaufman Engineered Systems has designed two new standard offerings in their KPal Compact Group of palletizing systems in response to customer feedback and new interest in initiating automation since the start of the COVID pandemic. It has become a challenge for manufacturers to find and keep enough labor to fill the open positions needed. Time and time again we hear from our customers how difficult it is to find staff, have staff report on time or even report at all.
The goals of these new standard offerings are: mobility, operator friendly controls, convenient pallet pattern creation, minimal footprint, competitive price offering, and reduced lead time.
The KPal CV is a compact robotic palletizer designed using a more conventional design approach. Kaufman Engineered Systems designed this compact palletizer utilizing a FANUC M20iD / 25. The M20iD is a six-axis robot with a maximum wrist payload of 25kg or as designed, the system can support a maximum case weight of 25lbs. This robotic compact palletizer comes standard with finger safe Lexan fence panels to protect the robot operating space. Additionally, for safety, the palletizing cell is supported by FANUC DCS software which monitors and limits the operating space for the robot. Lockable main disconnect, lockable air dump, and a trapped key locking gate switch is supported by a category 3 architecture that lends to the safety of this system. The palletizer is designed to handle a 40"W x 48"L pallets as a standard. Larger sizes are available for review upon request. The end of arm tool is designed with a vacuum gripper as a base but other tools can be considered based on application. The system is supported by a fully welded support base with fork pockets for easy relocation. A zoned TGW infeed conveyor is used to bring in and control cases to the pick zone. KES rates this Palletizer for a maximum of 20 cpm using a single case pick and has designed the maximum case size at 20" x 20" x 15" with a max case weight of 25lbs. Having an overall footprint of 7.5W' x 10'L the system takes up a minimal amount of space.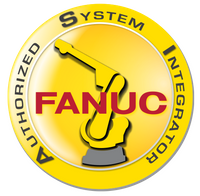 With each KDPal system comes Kaufman Engineered Systems service and support. Backed by 75 years serving customers, Kaufman is a partner you can rely on to respond quickly and efficiently when having service needs. With your KDPal palletizer you will have service options to choose from if you wish to setup quarterly, semi-annual, or annual maintenance support with Kaufman Qualified Technicians.
Let us help you become a new member of our family. We look forward to working with you.
Complete line of KPal Robotic Palletizing and Depalletizing solutions.