Kaufman Bundle Palletizer Options
Standard Features:
Kaufman Engineered Systems manufactured end-of-arm tooling
Category (3) safety architecture
Additional Options:
Slip sheet capability
Tier sheet capability
Pallet pick or automatic feed
Transfer-unit mounted robots for moving

between feed and build lanes and

accommodating multiple stack locations

Integrated vision
Infeed product conveyor
UL 508A listed control panel
CUL control panel
Calculate the benefits when you automate with Kaufman Engineered Systems Robotic Palletizing Solutions:
Increased line efficiency
Increased production
Improved quality of finished units
Greater line flexibility
Reduction in labor injuries
Reduction in staffing requirements
As an Authorized Systems Integrator for Fanuc Robotics, Kaufman Engineered Systems applies Fanuc robot technology to provide customers complete end of line system solutions.
The solution may be as simple as a dedicated palletizing cell, or as complex as a multi-line handling and palletizing system. No matter how big or small, Kaufman Engineered Systems will address each project and customer with the same integrity and professional response.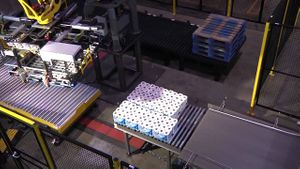 FANUC Robotic Full Tier KP1 Palletizing Cell with IR Vision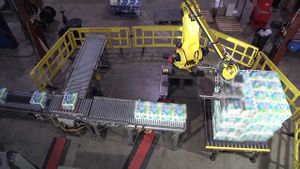 Soft Product Palletizing Robotic System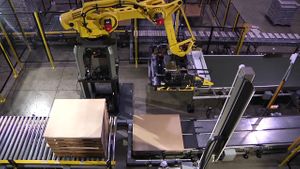 K5 Full Layer Plastic Container Depalletizer and Bundle Palletizing System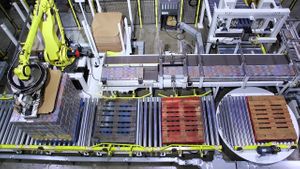 Robotic Tissue Carton Palletizing System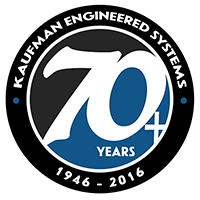 Why Companies Choose Kaufman Engineered Systems?
Stability: With over 70 years of serving our customers, Kaufman continues to provide innovative products backed by five-star service.
Quality: No one can match our machinery's superior construction and durability.
Dependability: With our 24-hour service support, you can count on Kaufman to be there when you need us most.
In House Design and Manufacturing: Kaufman employs a full staff of electrical, mechanical, and robotic engineers to design and install the machines that meet your specific needs.
Commitment to Excellence: We are customer focused, and we recognize that there are no universal automation solutions. Your needs are thoroughly analyzed and reviewed by our engineering staff to find the most efficient, cost-effective solution for your business.
Your Turn-Key Provider: From machine fabrication to installation and start-up, Kaufman is there to support you.
Improve your Bottom-Line: Whether it's shaving seconds off cycle time or squeezing space out of your plant layout, we are committed to improving your efficiencies and operating costs.
Kaufman Engineered Systems is a premier integrator for FANUC robotics offering robotic palletizing, depalletizing, case packing, high speed picking and labeling. In addition, Kaufman manufacturers their own line of stretch wrapping, pallet conveying, pallet stacking, pallet dispensing and other material handling offerings. Couple all this with in house controls and Kaufman has the complete solution. Let us help you create your next end of line solution.