Full-Layer Glass Container Palletizing System Integrating FANUC Robotics
Utilizing our patented fifth generation full layer end of arm tool technology, this robotic full layer palletizing system picks glass and plastic containers, film wrapped bundles, cases and display trays.
Full-Layer palletizing system capabilities:
Glass containers
Plastic containers
Film wrapped bundles
Cases
Display trays
System Features:
Patented Technology
Universal Tooling
Robot Control
Dynamic Dunnage
Kaufman Global Support
Robotic tier forming:
Robot lane sweeping
Cases, trays, bundles
Various container types
Complex pattern forming
5th generation full-layer end-of-arm tool picks:
Pallets
Slip sheets
Tier sheets
Top frames
Product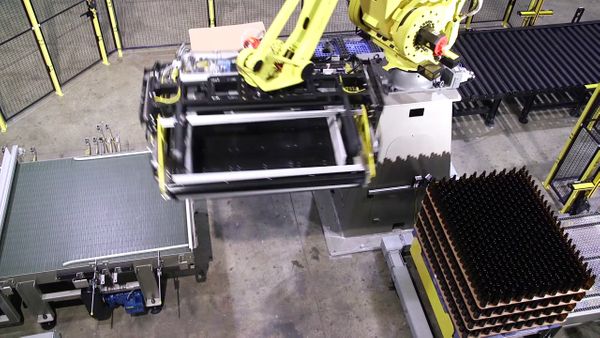 K5 Bulk Glass Palletizer System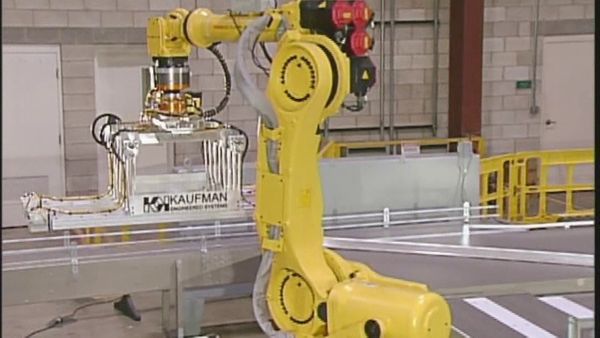 Full Layer Robotic Glass Bottle and Case Palletizing System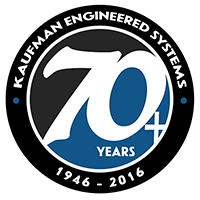 NEED TO AUTOMATE?
Let the line automation experts customize equipment in our research and development lab to suit your system requirements. Dedicated testing for robot speed and utilization, product pick ability and turning. We have all the tools needed to customize a system to fit your unique product needs.