Robotic Case Packing Adds Flexibility and Lowers Costs
Robotic case packing gives manufacturers and producers flexibility to handle growing SKU lists and rapidly changing pack formats.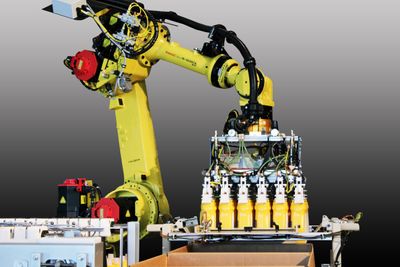 More SKUs, more pack formats and increasingly dynamic demand shifts: if it seems packaging becomes more complex every day, that's because it does. Dedicated case packing machinery lacks flexibility for this increased variety while labor shortages and rising costs mean manual packing isn't an option either. That's why forward-thinking manufacturers are exploring the potential of robotic case packing.
Here's how robotic case packing wins out over other case packing systems:
Fast changeovers

Small footprint

High reliability

Flexibility

Lower maintenance
New Pack Format? No Problem
Does the Marketing Team keep changing container sizes and shapes? Bigger bottles? Smaller boxes? More units per carton, or maybe fewer? Adapting dedicated case packaging machinery for new formats takes time and money. If all that's needed are program changes a robotic case packing cell can often be updated in minutes. More complex changes may need our adjustable end-of-arm tooling. This can match any product's shape and orientation, even pouches.
Saving Space
Some case packing systems occupy a lot of room. Robotic case packing systems often need much less. (Mounting the robot above the product feeder and case erector may be an option.) That frees up square feet for production equipment.
More Uptime
A breakdown in the food case packing area can cause a rapid build up of product. That creates a host of storage issues, especially with perishable goods. Robots are famous for their big MTBF numbers and those translate to lower maintenance requirements on the case packaging machinery. Why take a chance on equipment that might cause waste and lower yields? Invest in robotic case packing.
Adapt Easily to Changing Demands
Consumers are fickle and demand can shift overnight. Robotic case packing systems handle this in two ways:
1. A robotic system doesn't need to run at a constant rate, so slow down production if volumes drop rather than making inventory.
2. While robots aren't as flexible as human workers, (yet,) they are more reliable, don't take breaks and don't get injured. If you need to use your robotic case packer elsewhere it's easily redeployed and reprogrammed.
And don't forget, advanced vision systems are making robot systems and cells ever more adaptable to variations in product presentation.
Sold on your new robotic case packager? Contact us today for more information, or click here for a free quote.
Don't wait to increase your productivity — contact our award winning account managers for a free consultation. Call 419-878-9727 or email us at info@KES-USA.com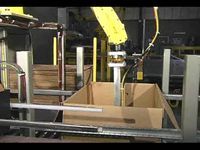 Plastic Bottle Case Packaging Equipment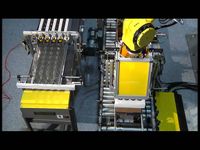 FANUC Robotic Glass Case Packaging System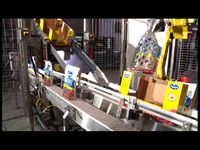 Robotic Pouch Tray Packing Equipment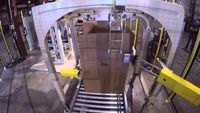 Robotic Bottle Case Packing and Palletizing System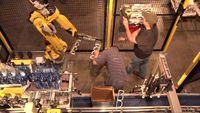 FANUC M20IA Robotic Case Packer Plastic Bottle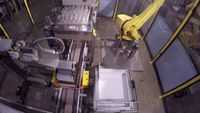 Robotic Case Packer for Inverted PET Bottle Including Vision Error Checking
UPGRADING EXISTING EQUIPMENT?
Your Single Source for End-of-Line Automation. We design, manufacture and integrate. With fewer headaches. Less paperwork. And no compatibility issues. Just the best, most efficient system for your business. Learn More>
Kaufman Engineered Systems is a premier integrator for FANUC robotics offering robotic palletizers, stretch wrapping machinery, automated packing machines, food packaging machines, high speed packagingand other robotic handling systems. Kaufman is your single source manufacturer for complete end of line automated packaging since 1947.