Prevent Injuries & Increase Flexibility with Robotic Palletizing
Address ergonomic concerns and labor shortages while increasing flexibility and lowering costs with robotic palletizing equipment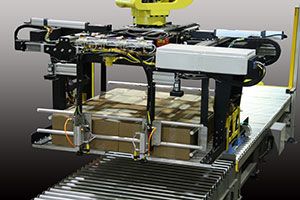 Your workers should not be palletizing and depalletizing. It's tiring, cases could get dropped, and they risk musculo-skeletal injuries. Much better all round to deploy a robotic palletizer or depalletizer.
Reasons to Invest in Robotic Palletizing
Palletizing is hard work. It means lifting and placing cases, drums, sacks or other containers in a way that maintains stability and avoids damage. It's increasingly difficult to find people for jobs like these but it's a good job for a robot. Here's why:
Eliminate ergonomic concerns

Reduce waste

Optimize pallet volume and load distribution

Increase flexibility
Protecting Workers, Reducing Waste
Placing cases on pallets is exactly the kind of work that leads to injuries: there's too much bending and twisting. Plus it's important to maintain consistency between pallets with air gaps, uniform load distribution and separator sheets as appropriate. A long reach, high payload robot handles these tasks with ease. Better yet, it won't get tired, slow down or make mistakes. Robotic packaging equipment protects workers and saves money.
Flexibility for Changing Pack Formats
Product life-cycles are getting shorter, pack formats more varied, and there are more SKUs than ever. A robot palletizer, especially when equipped with adjustable end-of-arm tooling, takes these challenges in its stride. Changeover downtime is minimized, meaning more capacity and lower costs.
Mixed pallets are another challenge facing manufacturers, especially those in the food industry. When customers want multiple products on a single pallet, dedicated palletizing systems just can't cope. That's another win for robotic palletizing.
About Depalletizing
Here's a task that's becoming more feasible by the day, thanks to advances in vision technology. Cameras with depth perception locate individual cases or other containers on the pallet and guide the robot to lift and remove each one as needed.
Address Labor Shortages With Robotic Palletizing
Manufacturers report increasing difficulty in finding people for jobs like packing and palletizing. Robotic palletizing solves this problem, with the added benefit of increasing capacity through 24/7 availability. Ask us how it's done.
Sold on your new robotic palletizer? Contact us today for more information, or click here for a free quote.
Kaufman Robotic Palletizing Systems Case, Bag, Tray or Container Applications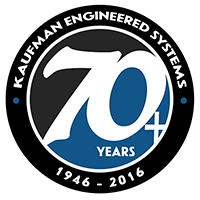 Our reliable, industry-leading robotic palletizing systems offer maximum flexibility to meet your company's needs.
As an Authorized Systems Integrator for FANUC Robotics since 2000, Kaufman Engineered Systems applies FANUC robot technology to provide customers with turnkey end of line system solutions.
Whether as simple as a single cell palletizing system, or as complex as a multi infeed build station — we're prepared to match your requirements. No matter the task, we will treat your project with the same integrity and professional response our customers have come to expect and trust since 1946.
When you automate with Kaufman Engineered Systems Robotic Palletizing Solutions:
Increased line efficiency
Increased production
Improved quality of finished units
Greater line flexibility
Reduction in labor injuries
Reduction in staffing requirements
24-hour service support
Watch FANUC Robotic System Demo Video