Design, Build & Install Fully Automated Stretch Wrappers

Kaufman Engineered Systems offers a complete line of the most durable stretch wrapping equipment available. Our KForce series of stretch wrap systems can be tailored to each customer's specific needs. When uptime efficiency and equipment longevity are what you desire, Kaufman stretch wrappers are the clear choice.
KForce Stretch Wrap Models:
The images below represent how each type of KForce system might be laid out. The actual configuration of each design is customized based on the customer's unique needs. Click any image for additional details about the model shown.
Superior stretch wrapping through automation, custom designed and built for you.
Kaufman Engineered Systems' automated stretch wrappers are unrivaled and designed to match your business's unique automated material handling needs. Our machines get the job done efficiently and effectively, giving your products the highest level of protection possible. Through custom automation, Kaufman wrappers reduce product loss during storage and transit, lower machine costs, and improve productivity. Your fully automated stretch wrapper will be among the most advanced machinery on the market due to the standard high-quality components, with several additional custom options to choose from.
Videos of KForce Stretch Wrap Systems in Action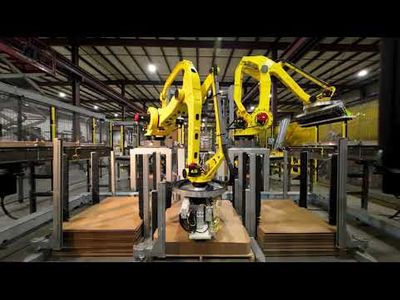 Kaufman Dual KPal V Robotic Palletizing System with KForce R35 Stretch Wrapper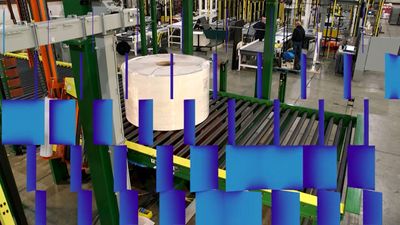 Kaufman SXPA 20 85 Overhead Rotary Arm Stretch Wrapper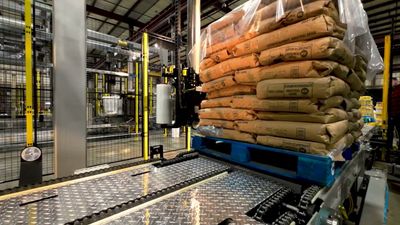 Kaufman KForceR35 Automatic Stretch Wrapper with Inline Top Poly Sheet Dispenser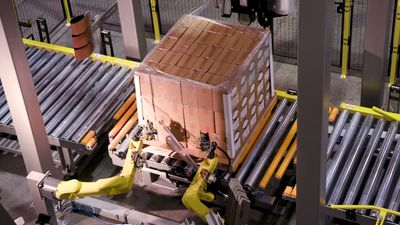 Kaufman KPal V Case Palletizing System with KForce Cornerboard Stretch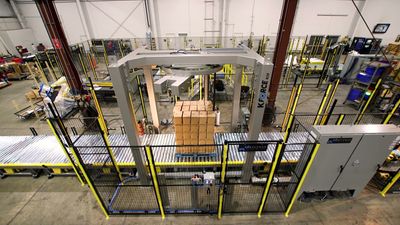 Kaufman KForceR35 Overhead Stretch Wrapper 22166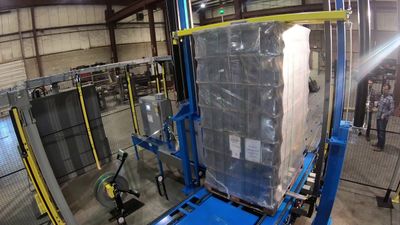 Automatic Strapping and Stretch Wrap System Including Pneumatic Load Lift and Turn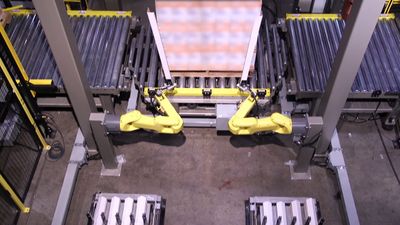 Dual Case Palletizing System with Corner Board Stretch Wrapper
Stretch Wrapping for Secure Loads

Palletized loads are conveyed to one of Kaufman's KForce automatic stretch wrappers. Here stretch wrap is applied to the unit to act as a dust cover and final containment to keep containers in place. KES manufactures a variety of stretch wrapper models to accommodate the loads per hour and film size requirements. Two standard models KES installs commonly is The Sxpa-20-100" automatic rotary arm stretch wrapper and The Expa-15-100" automatic rotary table stretch wrapper. The SXPA rotary arm model applies film to the stationary load while the film head is rotated around the unit. This is beneficial and suggested for more unstable palletized loads. The EXPA rotary table stretch wrapper applies wrap while the turntable is rotating the load and the stretch head is located on a fixed tower. The benefits of a rotary table stretch wrapper are reduced footprint for when space is important. Both solutions offer 20" or 30" film size options, selectable wraps patterns, automatic load height detection, and system diagnostics.
After final packaging through the stretchwrapper, Kaufman Engineered Systems will manufacture and supply finished load accumulation based on customer requirements. KES will work with the customer to design, manufacture, program, install and startup the finished end of line discharge conveyor system to provide loads to the warehouse operators.
Kaufman provides standard features:
Allen Bradley AC Powerflex drives
10, 20, or 35 RPM rotation speeds
Load height capacity 60", 80" and 100+"
0-300% film pre-stretch capacity
20" film capacity
Heavy duty tubular frame construction
Allen Bradley electrical and control components
Central lubrication
VTC (Variable Tension Control)
Quick thread powered pre-stretch for easy film loading
Automatic load height scanning
Additional machine options:
30" film capacity
ALTC (Automatic Load Tension Control) automatically adjusts tension to load stability requirement
Film roping
Load lifters that permit film to be wrapped underneath the pallet/load
Automatic heat tacker for final film tail (heat seals film)
Load stabilizing hold down
Reversing for system conveyors
Wash-down package
Slip sheet plow tabs
UL 508A listed control panel
CUL control panel
Cold room and food grade packages available
Top protection (poly or corrugate)
Corner board protection
Equipment installation services
When uptime efficiency and equipment longevity are what you desire, Kaufman stretch wrappers are the right choice for your business.
Today is the day to maximize the efficiency of your material handling needs. Contact our award winning account managers for a free consultation. Call 419-878-9727 or email us at info@KES-USA.com.
Why Companies Choose Kaufman Engineered Systems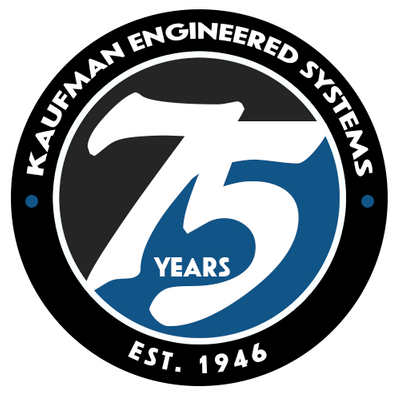 Stability: With over 75 years of serving our customers, Kaufman continues to provide innovative products backed by five-star service.
Quality: No one can match our machinery's superior construction and durability.
Dependability: With our 24-hour service support, you can count on Kaufman to be there when you need us most.
In-House Design and Manufacturing: Kaufman employs an entire staff of electrical, mechanical, and robotic engineers to design and install the machines that meet your specific needs.
Commitment to Excellence: We are customer-focused and recognize that there are no universal automation solutions. Your needs are thoroughly analyzed and reviewed by our engineering staff to find the most efficient, cost-effective solution for your business.
Your Turn-Key Provider: From machine fabrication to installation and start-up, Kaufman is there to support you.
Improve your Bottom-Line: Whether shaving seconds off cycle time or squeezing space out of your plant layout, we are committed to improving your efficiencies and operating costs.
Kaufman Engineered Systems is a premier integrator for FANUC robotics offering robotic palletizers, stretch wrapping machinery, automated packing machines, food packaging machines, high-speed packaging, and other robotic material handling systems. Kaufman has been your single source manufacturer for complete end-of-line automated packaging since 1947.